We have to concede that if there is any one solution which is always in demand, then it is our E-commerce Solution. Out of all the service requests we receive, more than 75% clients want an integrated e- commerce function on their website. And why not! Who would not want their website to become a money-minting machine?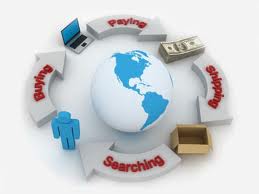 Most of our clients today use their websites to display their products to the world. They add alluring photographs and descriptions of their products, to tempt the online users. It only makes sense to have an option of 'buy now' and order with a click. Because if you ask the online user to write a cheque and post it to you, then sorry, but that is just not happening! And when the buying process is made so complex, then getting customers becomes difficult even if you get a lot of traffic on your website.
You have to capture the customer in the moment when they are gazing your products with awe. Offer them a shopping bag (or cart) and then pop up with a buy (or pay) option. Seize this moment and seize this sale. Because when this moment passes, the online user becomes an unlikely customer.
Vcare Software Development understands such dynamics of customer behavior, and that is how we are able to develop one of the most efficacious e-commerce solutions. And our clients understand this any other vendor would just technically enable the function of pay through PayPal, or credit/debit card options for you. But we prepare a complete user experience strategy. And some essential parts of our holistic e-commerce solution are:
• Zooming in option for better view of your products and a 360 degree view option
• Creating a Product Demo, displaying its functions and features
• Making an attractive Shopping Bag or Cart for your users
• Integrating a Live Chat option if need be to assist the customer and smoothen their buying experience
The clients prefer such holistic selling facility in their e-commerce. And this is demonstrated by one of our client's choices indeed. He had three e-tailing websites of apparel and he tried giving one contract to us and the other two to other separate vendors, only for the sake of variety. He noticed that for the same price our solution was far superior in its appeal than the ones provided by other two vendors. So he eventually got the e-commerce for the two sites also re-done by us!
Well, this makes us say, everybody not just wants an e-commerce solution, but they want it from Vcare Software Development only!