The first impression of your business is through your website, period! And if you haven't got good web development done, then you have already lost a few customers and a lot of brand value. Many enterprises prefer offshore web development services, while others choose the more expensive options of home-shoring. Wherever the location might be, it is important that the service should be GOOD.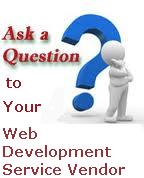 But before you can find such indubitably awesome web service development firm like VSD, you must ask that one question which can make every dubious vendor very uncomfortable. The answer to this single question can tell you everything about the company – their quality of work, their past track-record, their service delivery at all. And this incisive question is –
Q1 Can you give us reference of your past clients?
Asking for reference will give you an idea of the past works done by this firm. You must insist on speaking to the clients. Try to get the reference of a client who has availed the same service which you want to choose. For instance, if you want to get software applications made, then ask for a client who used their service of software application development.
And when you get the opportunity to speak to the client, then probe them with questions like – what was your biggest hassle in working with this outsource vendor, did they breach the Service Level Agreement in anyway, did you end up paying them more than you thought you would have to, did they stick to their deadlines etc.
And whatever the client tells you, confirm it with the company also, just to hear their part of the story. If there is much disparity in the two versions by the client and by the firm, then you should be wary. Any company which tries to dodge this question should be definitely doubted.
We, at VSD are waiting for you to ask this uncomfortable question to us. And also for your comments on this blog!